In the era where internet has become by now more and more essential due to both its fast updates and easy consultation, compared to printed paper, itís been my intention to collect and show through these pages the outcome of years as passionate freelance photographer in the Italian 'General Aviation'.
The site is divided into two sections: the former is instructive, featuring the complete list of every single airplane as available in the National Register (S.R.A. - Servizio Registrazioni Aeromobili), those that got sold abroad, the ones that occurred in a crash and write offs for dismantling or display off airports; the latter contains a large view of my own personal photographic collection.
In hopes to have filled up an evidently existing gap, nonetheless in such a fervent virtual world that is internet, I trust youíll be contributing to provide any data you might consider useful to keep this site up-to-date.
All photos on this website are protected by copyright. None of the pictures may be modified, published and distributed without author permission.
If you wanna use any material belonging to this site for commercial use, please contact me and Iíll be glad to please.
Current equipment:
Canon EOS5 (film camera)
Canon EOS20D (digital camera)
Canon zoom lens EF 75-300mm f 1:4-5,6 IS
Canon zoom lens EF 24-105mm f 1:4 L IS USM
Alessandro Parmigiani
Rome,
January 2007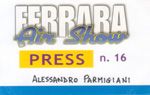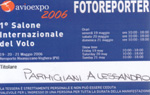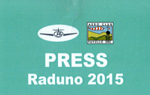 Home | About | Latest shots | Italian Register | Links | Events | E.mail